PANAMA CITY BEACH CEREMONY LOCATIONS
PANAMA CITY BEACH WEDDINGS
Looking for a destination wedding fit to capture all the romance of your special day?
When you think of a dream beach wedding, Panama City Beach Weddings Florida is the spot! Stunning blue waters, pristine sand, and an unforgettable sunset made for the best backdrop to your perfect day. Say "I do" beneath an arch of blooming white flowers in front of friends and family filled with love 💕
Choose from our carefully designed packages that provide everything needed – from dedicated officiants, skilled photographers and planners to dazzling decorations – so that every moment can be savored amidst the beauty provided by nature's most romantic backdrop.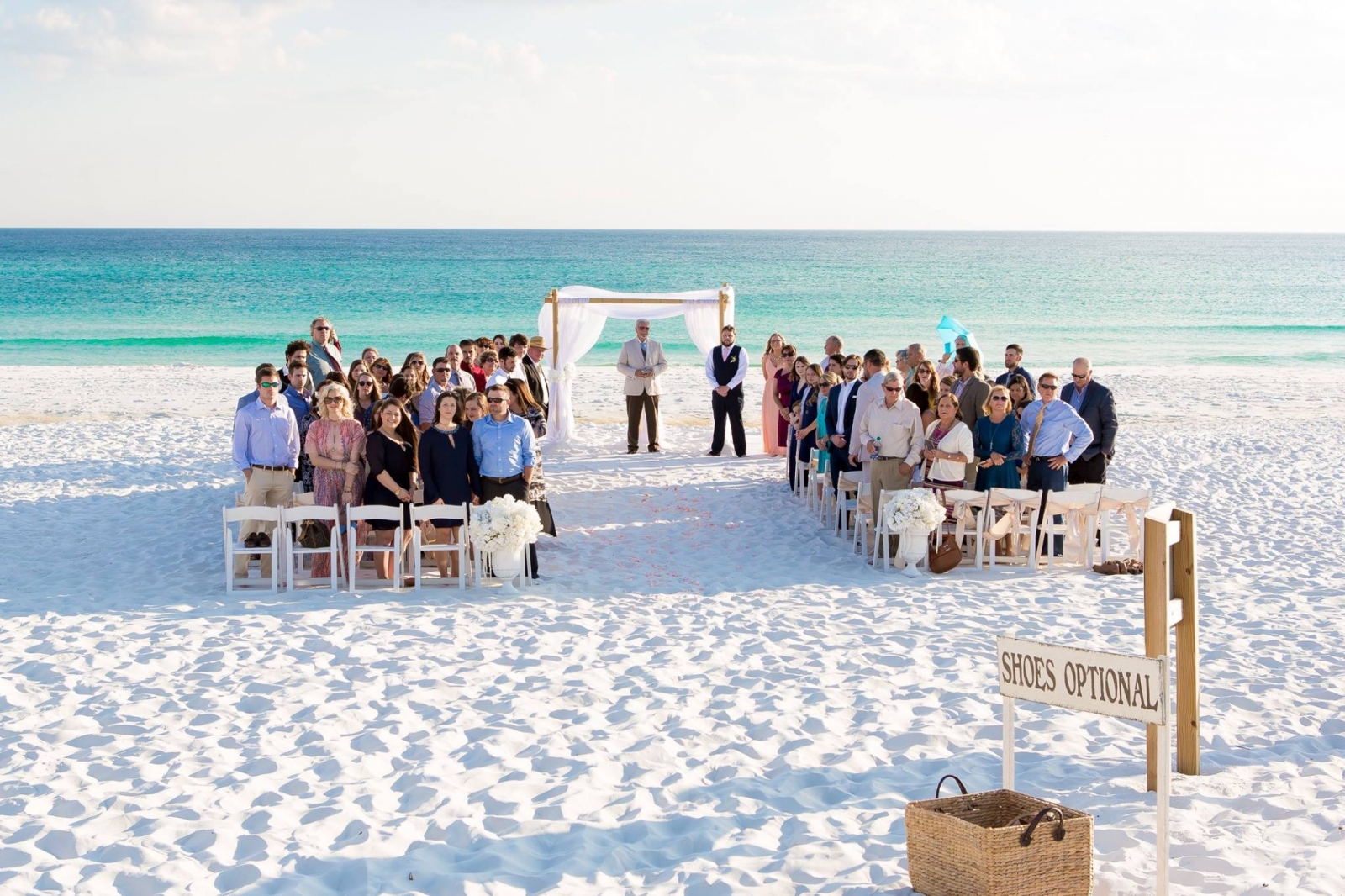 Elope in Panama City Beach, Florida $850
Our Panama City Beach Elopement Package starts at $850.
This package is perfect for eloping in Panama City Beach or Destin Florida. This package includes Wedding Officiate, Photographer and help finding perfect beach location.
Tie the knot on one of the most beautiful beaches in the world and skip all the wedding planning drama.
Elope in Panama City Beach Package 
Seaside Package $1550
Seaside Package is a step up from Elopement Package and is perfect for intimate romantic beach ceremony in Panama City Beach, Florida. This Package is $1550
Please visit Seaside Package in Panama City, Florida. 
Legacy Package $2550
Legacy Package is a great choice for wedding ceremony that has it all covered. Package highlights are wedding officiate, wedding photographer, wedding coordinator, 3 post wedding arbor with custom material color, and 20 chairs. Legacy Package is  package is $2550
Pease visit Legacy Wedding Package in Panama City Beach, Florida 
Serenity Wedding Package in Panama City Beach $3050
Serenity Package is our most Popular and gorgeous package. This package comes with our Signature 8 post Bamboo arbor with custom choice such as flowers, white chiffon material, chandelier and crystals. Serenity Package is $3050
Please visit Serenity Package in Panama City Beach

MB MILLER COUNTY PIER MOST POPULAR LOCATION! 
12215 Front Beach Rd, Panama City Beach, FL
Great public beach access with beautiful view of the pier. This access has 6 boardwalks, bathrooms and lots of parking. Conveniently located in the center of Panama City Beach.
ST ANDREWS BEACH STATE PARK 
This is very popular ceremony location in Panama City Beach. This beach park has 3 locations to choose from: jetties 2 locations or next to the pier. Pavilions available for reception. Fees and Reservation Required. Alcohol is not permitted.
FEES:
1-25 GUESTS $350
26-50 $400
51-75 $450
PAVILION RENTAL (PIER AREA ONLY):
8 AM- 2 PM $200
3 PM – SUNSET $200
12PM-10 PM $1500 INCLUDES PICNIC TABLES WITH ATTACHED SEATING, BISTRO LGHTS, SECURITY AND PARK STAFF.
Wedding Coordinator is required to be present during reception.

PUBLIC BEACH ACCESS NUMBER 16
7817 SURF DR, Panama City Beach, FL
Public Beach access nr 16 popular location for small weddings. This is a great location if you are looking for a more secluded area. Wooden boardwalk to the beach. No restrooms or pavilion. You can find it on the Panama City Beach Map between streets of Surf dr and Choctaw St. It is located between a condo and a smaller duplex. Limited parking for about 10 cars
7419 Thomas Dr, Panama City Beach Fl 32408
This Park has 4 acres of beach from property in Panama City Beach. Great location that is centrally located centrally located in Panama City Beach. Lots of parking and bathrooms.

We have worked with Chuck for about 8 years. He does live music for ceremonies with Guitar, Steel Drums or Conch Shell.