Your wedding in Destin is one of a life-time experience.
Destin Weddings offer the perfect solution for romantic stress free wedding on the beach in Florida. Gulf Coast is famous for turquoise blue ocean water and white sandy beaches. Destin offers best activities such as: fishing, camping, snorkeling, dolphin cruises, best seafood restaurants, shopping and golfing.
Elope in Destin Fl with our simple elopement package. This package is perfect choice for an intimate and romantic wedding ceremony for couples looking for easy and stress free ceremony. Highlights of our Elope wedding packages are: wedding officiate, wedding photographer and help finding wedding location in Destin or Panama City Beach, Florida. To learn more on what is included in the package visit our Destin Wedding Packages page.
SEASIDE WEDDING PACKAGE $1250*
Seaside Wedding package features: wedding officiate, two post bamboo arbor with custom color material, wedding photographer, sand ceremony and prerecorded music
Legacy Package features: wedding officiate, wedding photographer, wedding coordinator, sand ceremony, aisle way decorations, 20 chairs and our 2 post bamboo arbor
Serenity Package features: wedding officiate, wedding coordinator, wedding photographer, our Deluxe 4 post bamboo arbor adored with lush flowers, aisle way decorations, prerecorded music, up to 20 chairs, and 2 grecian vases.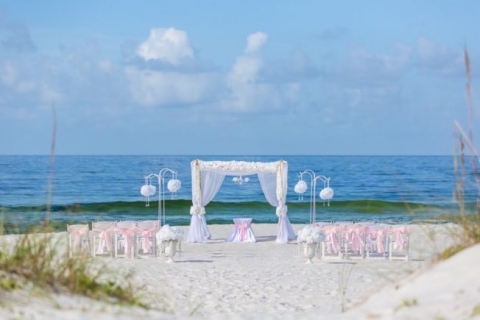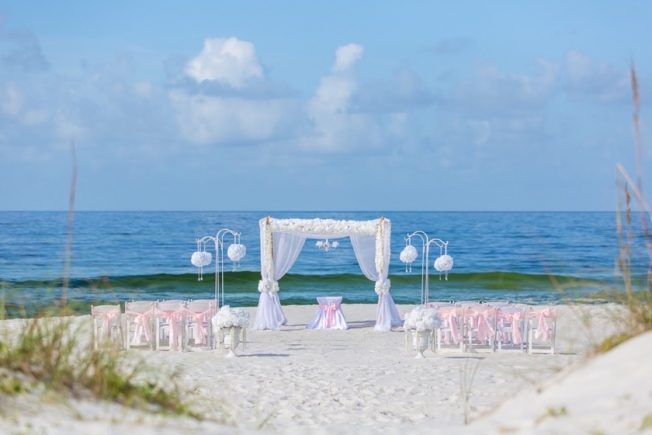 Destin Weddings Locations
Planning Destin wedding may be overwhelming as there are many options online. Most of our brides are out of town so we cerated our beach wedding packages to accommodate that. Our Destin wedding packages include everything you might need for your ceremony. We work with best wedding officiates, coordinators and wedding photographers.
Panama City Beach Wedding Locations
Another location that we proud to serve is Panama City Beach, Florida. Panama City Beach weddings offer same gorgeous beaches as Destin and white sandy beaches. Panama City Beach has many more intimate beach locations. If you are looking for laid back and stress free wedding then Panama City Wedding is a perfect choice.
We have been planning Destin weddings for over 14 years!
Saying Yes in front of your loved ones, standing on beautiful white sand while you hear the waves of the ocean will be a memory that will be with you forever.