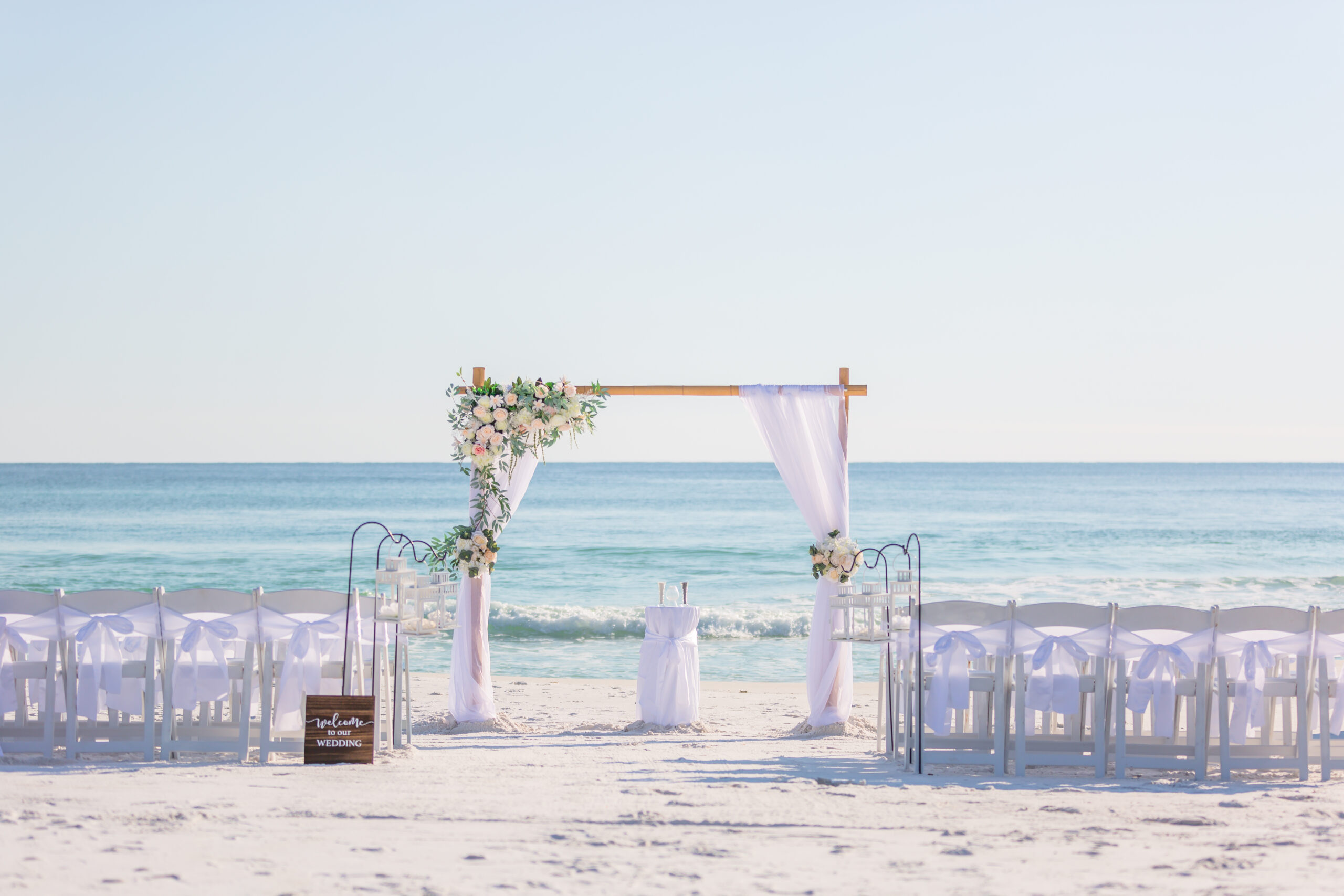 Imagine a wedding day where the golden sands meet the endless expanse of the Gulf of Mexico, and the warm breeze carries the whispers of your vows. That dream can become a reality beach wedding Destin, Fl, where moments transform  into memories that last a lifetime.
A Natural Canvas for Love
Destin's sugar-white beaches and crystal-clear waters provide a stunning backdrop for your beach wedding. With nature as your decorator, you'll find that less is often more, allowing your love to shine in the simplicity of the surroundings.
Sunsets to Remember
Sunset ceremonies during beach wedding in Destin, Fl  are pure magic. As the sun paints the sky with a breathtaking palette of colors, your vows will be exchanged amidst the warm, golden glow of a Gulf Coast sunset – a moment of sheer romance and beauty.
Beach Elegance
Beach weddings are inherently relaxed and charming, yet you can infuse elegance into the occasion. Flowing dresses, seashell accents, and delicate floral arrangements add a touch of sophistication to the seaside setting.
Intimate or Grand: Your Choice
Destin offers a variety of beachfront venues to suit your style and guest count. Whether you're planning an intimate elopement or a grand celebration with all your loved ones, there's a beach spot waiting for you.
Relaxation and Adventure
Destin isn't just a wedding destination; it's a vacation paradise. Before or after your wedding day, explore the area's attractions, from deep-sea fishing and water sports to romantic strolls along the harbor boardwalk.
Capture the Moments
Our professional photographers in Destin are experienced in beach weddings, ensuring that every breathtaking moment is preserved. Your wedding album will be a visual love story of sand, sea, and sunsets.
Start Your Journey
Destin, Florida, beckons with its natural beauty and romantic charm, inviting couples to embark on a journey of love by the shore. Start planning your beach wedding in Destin today and let the Gulf of Mexico be your witness to a day that's as beautiful as your love story. 🌊💍❤️