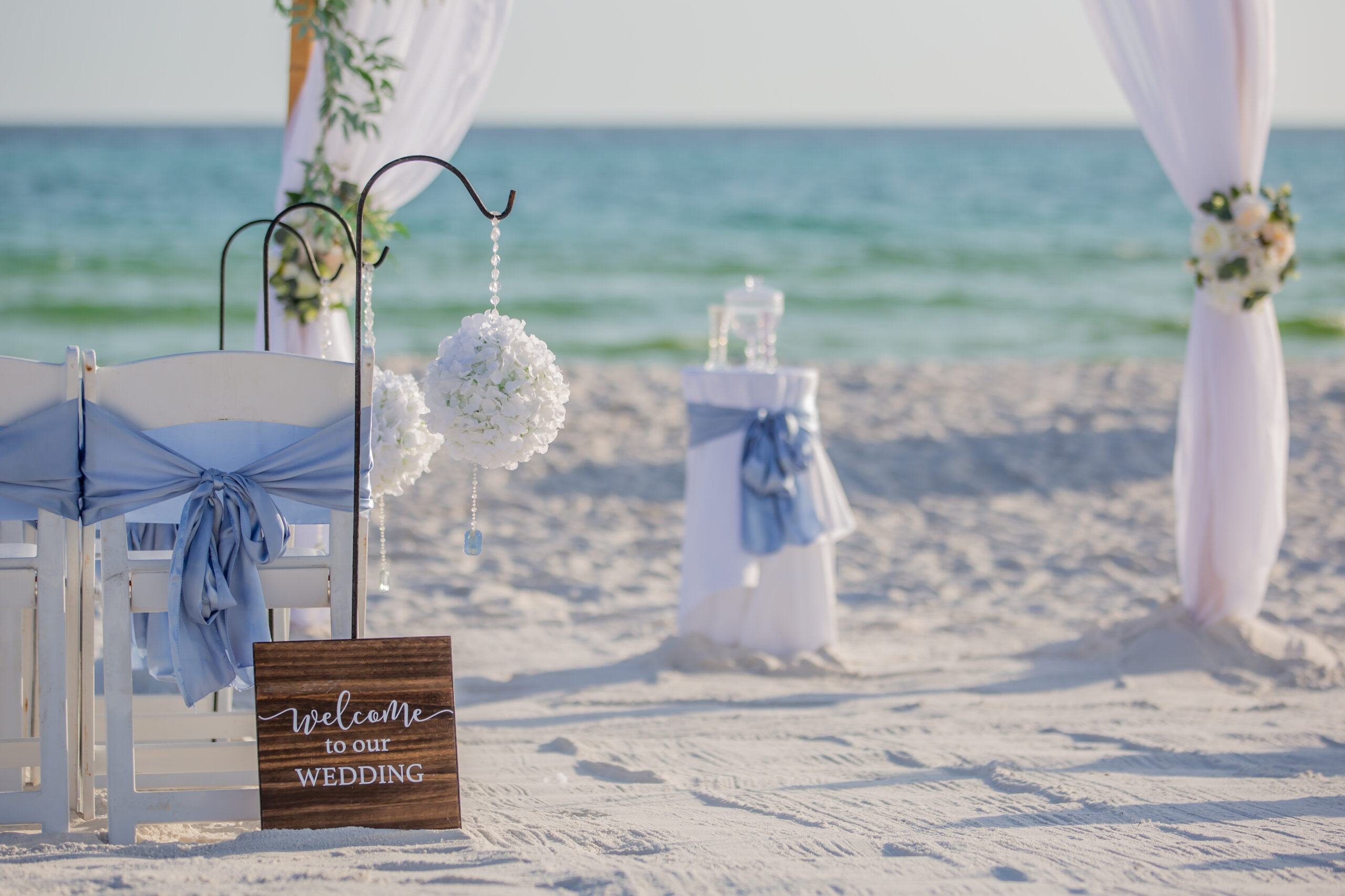 Panama City Beach is renowned for its pristine shores, breathtaking sunsets, and the perfect backdrop for a dreamy coastal wedding. If you're a bride and groom seeking a combination of boho elegance and seaside charm, look no further. In this post, we'll explore the enchanting world of a "Boho Dusty Blue Panama City Beach Wedding" and discover how to infuse bohemian elements into your coastal celebration.
1. A Dusty Blue Dreamland
Dusty Blue Color Palette: Dive into the tranquil world of dusty blue hues, a color that exudes serenity and sophistication. Incorporate this subtle yet stunning shade into your wedding decor, from bridesmaid dresses to table settings.
Boho-Inspired Bridal Attire: Include boho bridal gowns with delicate lace and flowing silhouettes can add a touch of whimsy to your Panama City Beach wedding attire.
2. Beachside Bohemian Decor
Seaside Boho Elements: Explore the fusion of coastal and boho styles by incorporating natural materials like driftwood, seashells, and macrame into your decor. Create an ambiance that perfectly complements the beach surroundings.
Rustic and Chic Tablescapes: Set up your reception tables with rustic wooden elements, mixed with bohemian table runners and dusty blue centerpieces for a charming and relaxed atmosphere.
4. Bridal Beauty and Boho Florals
Boho Bridal Beauty: Discover boho-inspired hair and makeup ideas for the bride, and learn how to achieve that ethereal, free-spirited look.
Floral Arrangements: Dive into the world of boho floral arrangements with wildflowers, eucalyptus, and dusty blue blooms. We'll provide insights into choosing the perfect florals for your beach wedding.
5. Capturing the Moments
Beach Wedding Photography: Our photographer will capture the essence of your boho dusty blue Panama City Beach wedding. From candid beach shots to creative poses, your photos will tell the story of your special day.
Your "Boho Dusty Blue Panama City Beach Wedding" will be a captivating blend of free-spirited bohemian vibes and the serene beauty of the Gulf Coast. Let's turn your dream wedding into reality.
As we wrap up, we'll reflect on the magic of combining boho elegance with coastal charm for a Panama City Beach wedding. Your special day should be a reflection of your love and unique style.