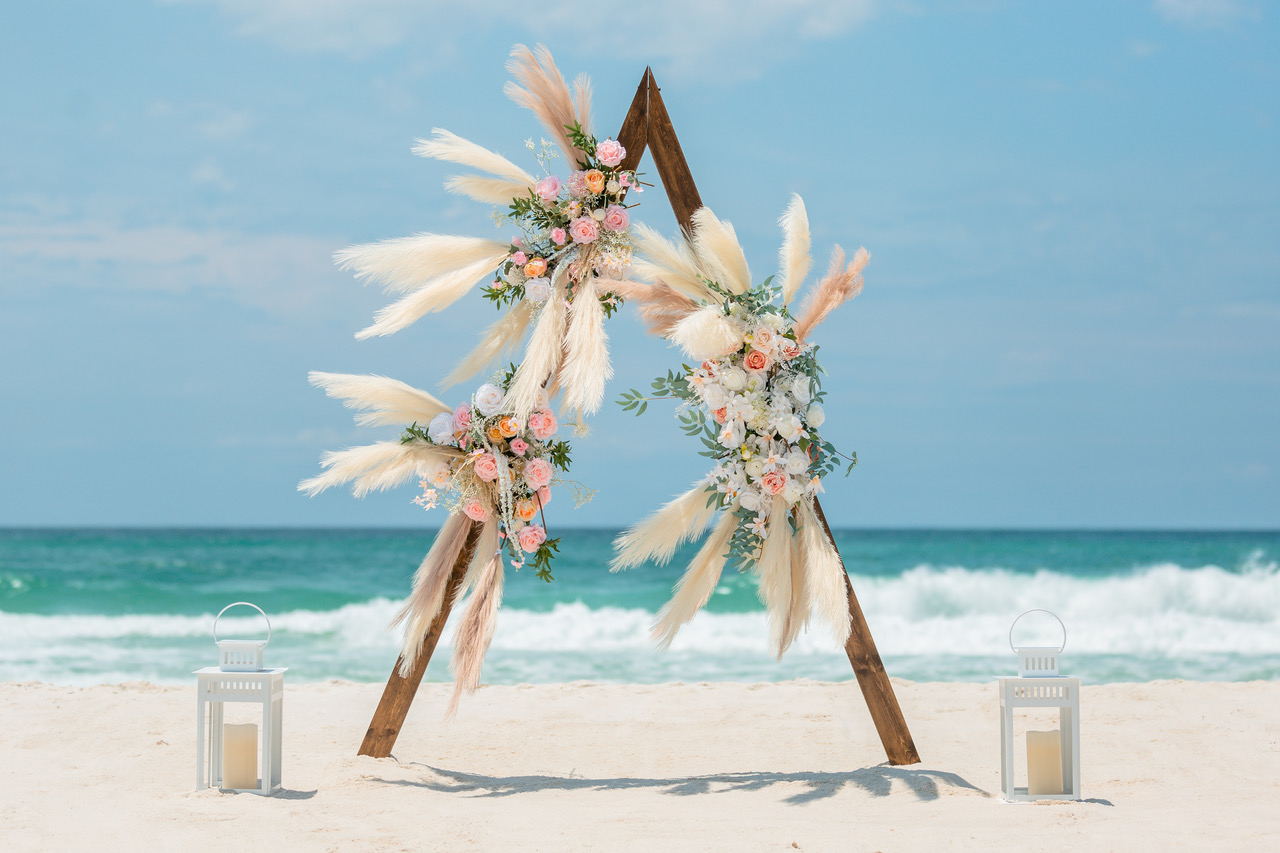 Panama City Beach Boho Weddings
In the enchanting realm where the bohemian spirit meets the coastal allure, Panama City Beach Boho wedding, Florida, emerges as the ultimate canvas for boho beach weddings. With its sun-kissed shores, swaying palms, and tranquil waves, this destination sets the stage for a celebration that's as relaxed as it is elegant. Let's delve into the captivating world of Panama City Beach boho weddings and discover how you can infuse this carefree spirit into your own coastal celebration.
Boho weddings are all about embracing individuality, free-spiritedness, and a connection with nature. Panama City Beach provides the perfect backdrop for this theme, offering the beauty of the ocean and the tranquility of the coastline. Here's how to infuse boho elegance into your beach wedding:
1. Natural Elements as Decor: Choose décor that celebrates the beauty of the beach and the surrounding environment. Think driftwood centerpieces, seashell accents, and soft, billowing fabrics that mimic the movement of the waves.
2. Effortlessly Chic Attire: For the bride, boho beach weddings call for gowns that blend elegance with comfort. Flowing lace, ethereal silhouettes, and even barefoot sandals capture the bohemian vibe perfectly. Grooms can opt for linen suits or casual attire that complements the relaxed atmosphere.
3. Earthy Color Palettes: Select a color palette that reflects the natural world around you. Earthy tones like sandy beige, soft blush, sage green, and muted coral work harmoniously with the beach setting.
4. Boho Bouquets and Florals: Boho florals are characterized by their loose arrangements and wildflower aesthetics. Embrace a mix of blooms in various sizes, textures, and colors to achieve that effortlessly undone look.
5. Relaxed Ceremony Setup: Design a ceremony area that exudes bohemian charm. Consider a macramé backdrop, rugs or cushions for seating, and a dreamy arch adorned with fresh blooms.
6. Sunset Vows: Panama City Beach's spectacular sunsets add an ethereal touch to boho weddings. Plan your ceremony during the golden hours before twilight, letting the setting sun cast a romantic glow over your vows.
7. Boho-Inspired Photography: Work with your photographer to capture candid, natural shots that reflect the essence of boho elegance. Incorporate elements like dreamy lighting and candid beach walks to bring out the free-spirited feel.
Creating Your Boho Beach Dream
Panama City Beach offers a mesmerizing playground for couples seeking the magic of boho beach weddings. With its idyllic setting and laid-back charm, it's the perfect canvas to paint your wedding dreams. Let the waves serenade your love story, the sun bless your union, and the bohemian spirit infuse every detail with carefree elegance. Your Panama City Beach boho wedding promises to be an unforgettable celebration of love and nature's beauty.