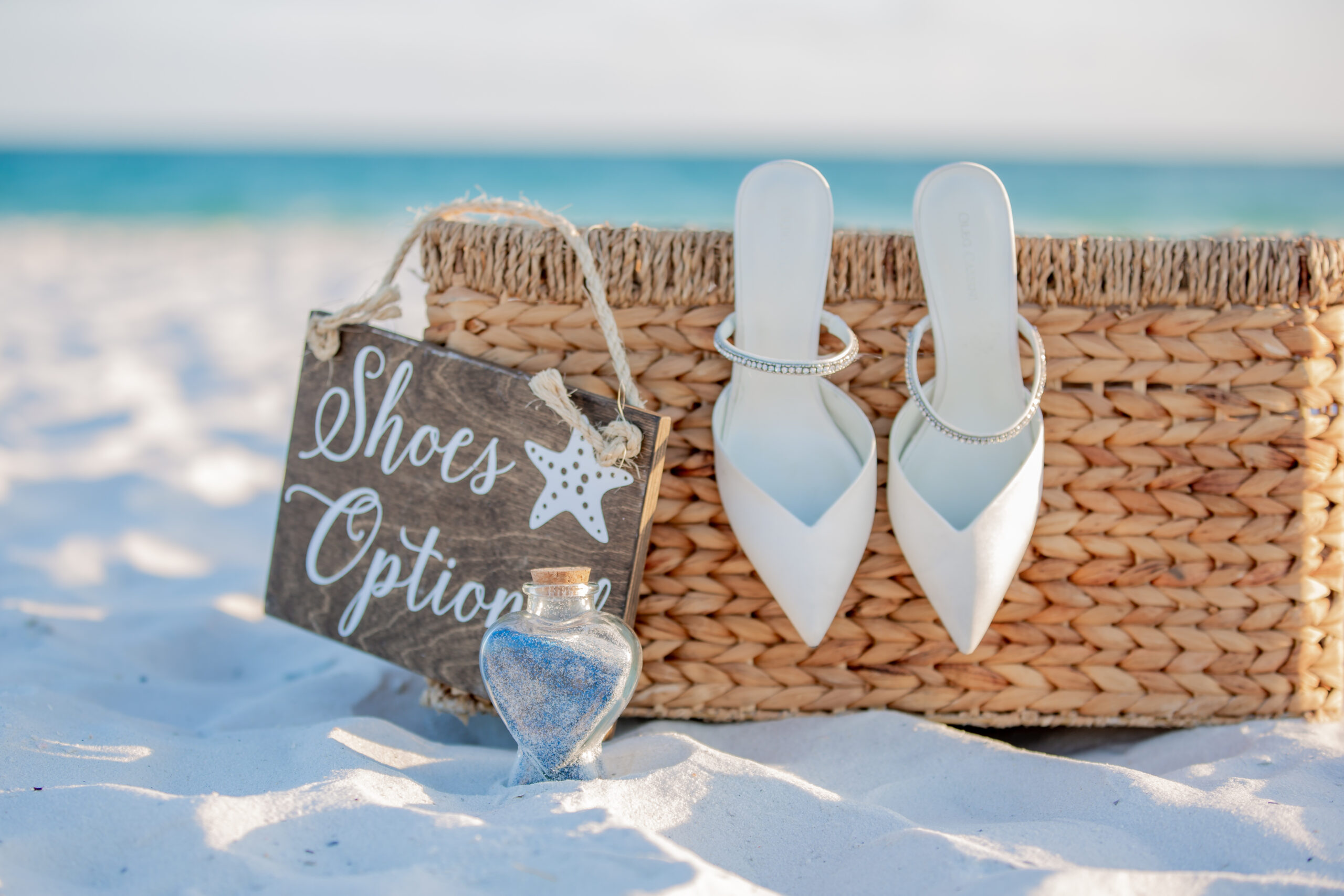 There's something undeniably enchanting about the idea of saying "I do" with the gentle lullaby of waves in the background, the soft sand beneath your feet, and the sun-kissed horizon as your witness. Beach weddings, with their inherent romance and natural beauty, hold a special place in the hearts of brides seeking an ethereal and feminine touch to their big day.
The Dress: Elegance Meets Ease
Beach weddings call for wedding dresses that are both elegant and easy-breezy. Flowy chiffon or lace gowns that move with the ocean breeze create a dreamy, feminine look. Consider floral appliques or subtle beach-inspired details for that added touch of whimsy.
Footwear: Barefoot Beauty
Who needs heels when you can embrace the ultimate beach wedding footwear – going barefoot! Or opt for delicate sandals adorned with seashell embellishments to complete your feminine beach bride look.
Bouquets: Blooms with a Coastal Twist
Carry a bouquet that combines your favorite flowers with coastal elements like seashells, starfish, or sea grass for a beachy and feminine touch. Soft pastel colors like blush, lavender, or aqua can add a gentle, romantic feel.
Hair and Makeup: Soft and Natural
For a beach wedding, opt for a natural makeup look that enhances your beauty without feeling heavy. Soft waves, a relaxed updo, or a flower crown can add a touch of feminine grace to your overall appearance.
Decor: Understated Elegance
Let the beach be your canvas, and keep the decor simple yet elegant. White drapes billowing in the breeze, delicate lanterns, and floral centerpieces can create a feminine and romantic atmosphere.
Guest Attire: Light and Airy
Encourage your guests to embrace the beachy vibe by suggesting light and airy attire. Think flowy dresses for the ladies and linen suits for the gentlemen, allowing everyone to be comfortable and stylish.
Photography: Capturing Your Love Story
Choose a photographer experienced in beach weddings to capture the magic of your day. The soft natural light and serene beach setting will add a timeless and feminine touch to your wedding album.
Seaside Sunset Romance
One of the most enchanting aspects of a beach wedding is the captivating sunset. Plan your ceremony to coincide with the golden hour, and let the sun's warm embrace create a magical backdrop for your vows.
A beach wedding offers the perfect canvas for brides seeking a feminine and romantic touch to their special day. With soft details, dreamy attire, and the natural beauty of the beach, your beach wedding can be an ethereal and enchanting experience that you and your loved ones will cherish forever.