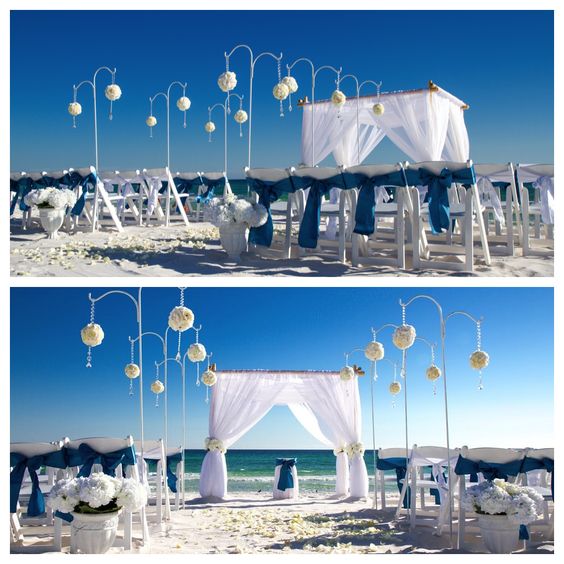 Panama City Beach, Florida, is more than just a sunny destination; it's a canvas for creating stunning and unique weddings. If you're in love with the idea of a wedding that combines the beauty of the beach with the regal charm of royal blue, you're in for a treat. In this short blog post, we'll explore the enchanting world of a Royal Blue Panama City Beach Wedding and discover how this classic color can add a touch of elegance to your seaside celebration.
The Royal Blue Palette:
Royal blue is a color that exudes sophistication and timeless elegance. It's the perfect choice to add a touch of regal charm to your Panama City Beach wedding. Whether it's bridesmaid dresses, table settings, or groomsmen's attire, this color sets the stage for an elegant affair against the backdrop of the Gulf.
Seaside Elegance:
One of the charms of Panama City Beach is the seamless fusion of natural beauty and sophistication. The soft sands and emerald waters provide the perfect backdrop for a wedding filled with regal beauty. The ocean waves, under the open sky, create a romantic atmosphere that's second to none.
Classic Royal Blue Decor:
Incorporate royal blue into your wedding decor to create a regal ambiance. Table settings with rich blue accents, sapphire-colored floral arrangements, and intricate details in the bride's attire can turn your beach wedding into a royal affair.
Bridal Beauty and Floral Delights:
For the bride, consider classic elegance in your wedding gown and bouquet, reflecting the richness of royal blue. Floral arrangements featuring white blooms with royal blue accents make for a timeless and sophisticated choice.
Photography by the Shore:
Don't forget to capture the moments against the stunning backdrop of Panama City Beach. From candid shots in the sand to posed photographs on the pier, your wedding photos will be a testament to the elegance and beauty of your royal blue-themed celebration.
The Royal Reception:
The reception by the beach offers a beautiful opportunity to continue the theme. Rich blue decor elements, beachfront dining, and a dance floor beneath the stars will make for a memorable celebration.
In Conclusion:
A Royal Blue Panama City Beach Wedding is a classic choice that brings together the natural beauty of the beach with the timeless elegance of royal blue. If you're looking to create a wedding that exudes sophistication and regal charm, this combination is a match made in wedding heaven. Let Panama City Beach be your destination for a celebration that's elegant, romantic, and absolutely unforgettable.