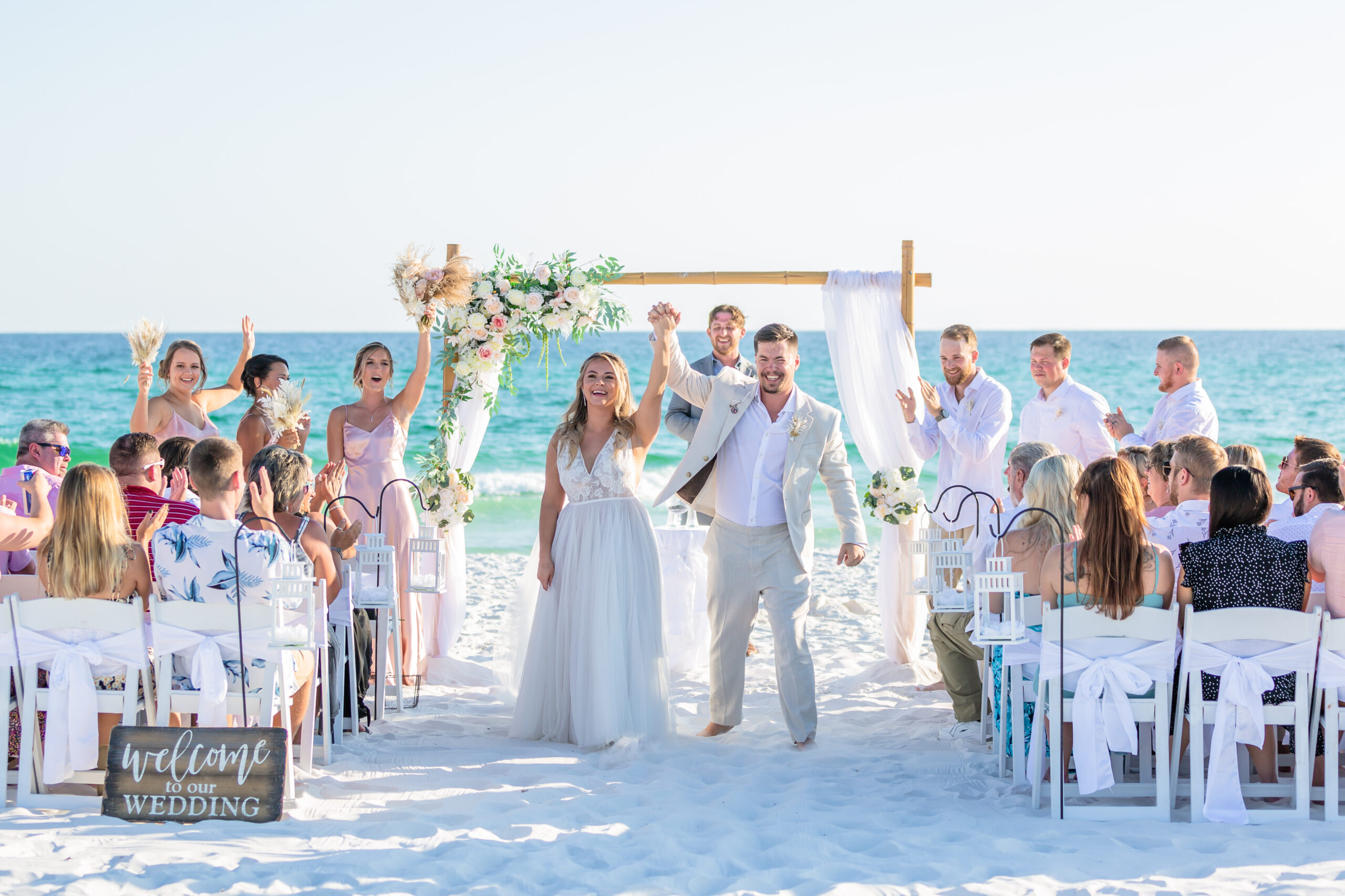 Hey there, beach-loving brides and grooms! If you've ever dreamt of saying "I do" with the sound of crashing waves and the salty breeze in the air, then Destin, Florida might just be the sandy stage for your wedding dreams. Buckle up, because we're about to dive into the world of Destin, Florida beach weddings, where love meets the ocean in a whirlwind of sandy sophistication!
The Perfect Venue: Mother Nature's Masterpiece
Why book a fancy indoor venue when Mother Nature has already laid out the perfect carpet of white sand for you? In Destin, you can forget the four walls and embrace the endless horizon as your backdrop. Beach weddings are a canvas painted by nature, and you're the artists creating a masterpiece of love.
Sun, Sea, and Seashells
In Destin, you're not just exchanging vows; you're also making friends with seashells! Picture this: your guests gathering beautiful seashells that will forever remind them of your special day. It's like a beach treasure hunt, and everyone's a winner!
Flip-Flops Over Heels
Ladies, throw those stilettos aside! Beach weddings call for flip-flops and sandals. Who needs uncomfortable shoes when you can feel the sand between your toes? Gents, consider trading your suit for beachy casual wear – bowties and Hawaiian shirts are not only welcomed but encouraged.
Sun-Kissed, Not Sunburned
Destin, Florida is famous for its sun, so make sure you and your guests are prepared with sunscreen. You don't want to look back at your wedding photos and wonder why you're the lobster bride or groom!
Wedding Beach Bingo
Create a game of "Wedding Beach Bingo" for your guests, filled with fun beach-related challenges. Think sandcastle building contests, seagull-watching, and beachcombing. The winners can be rewarded with seashell trophies (or just bragging rights).
Seafood Galore
Destin is known for its fresh seafood. Why not treat your guests to a seafood feast? Lobster, shrimp, and oysters can make your reception as unforgettable as your vows. Just remember to have a few bibs on hand!
Dance Like Nobody's Watching (Because They Aren't!)
On the beach, you're free to dance like nobody's watching because, well, they aren't! So, throw those dance moves and celebrate your love with the sand between your toes. It's your wedding day; be the star of your own beachside show!
The Takeaway: Love, Laughter, and Sandcastles
In Destin, Florida, beach weddings are all about love, laughter, and creating sandy memories that will last a lifetime. It's a place where formalities are traded for flip-flops, where seashells are the confetti, and where the sunsets are the grand finale to your love story.
So, if you're looking for a wedding that's as unique and beautiful as your love, set your sights on Destin, Florida, where beach weddings are a breeze – both figuratively and literally! It's a destination that promises not just a wedding but a sandy, sun-kissed adventure of a lifetime. Dive in, and let the waves of love carry you away! 🌊💕